Open-Ended Vs. Close-Ended Toys: Which is Better for Your Kid(s)?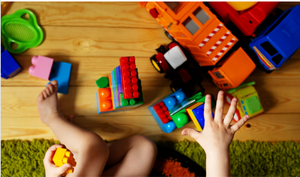 As parents, we have to face many decisions when raising our kids. How often is too often to let them have ice cream? Are open-ended vs. close-ended toys better? What about evening screen time or set bedtimes? 
We want our kids to have a fun, enriching life while guiding and protecting them as they grow up. And looking out for them means bringing healthy, stimulating toys into our homes that engage them to learn and develop vital skills. Like us, you may have wondered which is better: open-ended or closed-ended toys? 
Truth is, they are both great! But each play style offers unique benefits.
And while we're on the subject, what is the difference between the two? 
Keep reading as we share about the differences between open-ended vs. close-ended toys. 
What are Close-Ended Toys?
Imagine a spin class or online cooking lesson — for those rare moments when you can squeeze in some precious 'you' time. The class starts and ends at specific times, and you follow the instructor's guidance.  
Close-ended toys function similarly. Here's the main distinction between open-ended vs. close-ended toys: open-ended toys can be played with in many different ways, while close-ended toys have clear instructions for how to play each time. 
Close-Ended Toys Examples
What's the opposite of open-ended toys? Close-ended toys. You probably have a few close-ended toys in your kid's playroom. Puzzles, Connect 4, mazes – all these games have rules and a clear ending point, often with a winner. But is it just toys that are close-ended? 
What are closed-ended activities that might not involve any written instructions?
The game tag doesn't have any written rules, but kids play the same way each time. Someone chases another until they tag them with a triumphant "you're it!"
With close-ended materials, examples like a coloring book give kids structure and outlines for fun creations. . They have guidance for coloring  animals, characters, or landscapes. The end of play occurs when kids fill in the outline with colors, which is a great metaphor for the idea of close-ended play: kids color within the lines. 
Can close-ended toys be educational?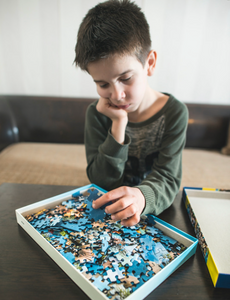 Close-Ended Toy Benefits
Think back to grade school or college when you'd take a test or exam. You'd follow precise instructions to answer each question. Similarly, work tasks involve following clear processes to achieve an expected result. 
You don't learn how to take exams and follow job processes out of the blue – you were taught how to do so. Well, close-ended toys give you the basics when you're a kid. So, the most valuable benefit of close-ended toys is that kids learn how to follow instructions. 
Other benefits include:
Improved memory: Kids learn to master close-ended toys and games by remembering instructions and game elements each time they play. Researchers found that kids playing with jigsaw puzzles (a close-ended toy) used different cognitive abilities, including short- and long-term memory. 
Sportsmanship: Most sports are close-ended because there's only one way to play and one way to win. Learning to acknowledge wins and losses helps encourage teamwork and sportsmanship. 
So, close-ended toys help kids hone real-life skills during playtime, which is a great benefit. Yet close-ended toys don't accommodate all types of play. Open-ended toys allow kids' creativity to flourish, giving their imaginations a wonderful outlet.
Next, we'll share why open-ended toys are a favorite among parents and kids alike!
What are Open-Ended Toys?
Open-ended toys empower kids to play as far as their imagination takes them: no instruction manuals, no rules or endpoints. While close-ended toys have clear outcomes and events that indicate an end or winner, open-ended toys change with every child, setting, and play session. 
They are a positive addition to any home because open-ended play activities engage all types of play — from art to engineering to storytelling and beyond.
Open-Ended Toy Examples
Some familiar open-ended play toys include animal figurines, play silks, and costumes. Each toy offers 1,000 possibilities for play, from narrated stories and role-playing to building universes and artistic expression.
Has your child ever enjoyed hours in the pool, experimenting with bubbles, splashes, and exploring underwater? Water is one of the most popular open-ended materials examples, along with clay, rocks, and sticks. 
Here's another example your kids will love: Squaregles magnetic building toys are open-ended toys that remove all limits to your kids' creativity. Made with connectable frames and pop-out panels, Squaregles gives kids the freedom to build, explore, and play for hours on end.
They embody the benefits of open-ended vs. close-ended toys. With Squaregles magnetic toys, your kids have free reign over playtime.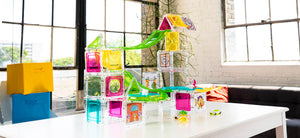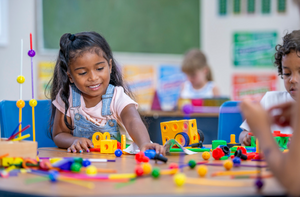 Open-Ended Toy Benefits
So, are open-ended toys better for learning? That depends on your kids' personalities and learning styles. Many parents and experts have found that open-ended vs. close-ended toys offer more learning opportunities for kids via heightened creativity, critical thinking, and autonomy during playtime. But specifically, why is open-ended play important for development and education? Here are some key benefits:
Creativity and Problem-Solving: Open-ended vs. close-ended toys give kids unlimited ways to solve problems. Instead of the rules and limitations that close-ended play has, open-ended toys inspire kids to take control of their environment. Child psychology experts link this to improved problem-solving skills and creativity. 
Freedom of Expression: Rules keep things in order, but too many rules make it hard for kids to express themselves. Playtime is our kids' favorite time to express themselves and their unique talents and curiosities. Open-ended toys foster that expression through role-play, creativity, innovation, learning, experience, and immersion. There truly are no limits to how they'll express themselves with open-ended toys.
Both close-ended and open-ended toys have clear benefits, but which is better for your kids? 
Open-Ended Vs. Close-Ended Toys: Is There Room For Both?
When comparing open-ended vs. close-ended toys, remember that both offer great benefits. While close-ended toys improve memory and teamwork, open-ended toys embrace creativity and strengthen self-expression and problem-solving skills.  
Our advice? Give your kids a mix of different toys to enjoy. Are you looking for a great open-ended toy that will unlock your kids' imaginations? 
Engage your kids with Squaregles educational magnetic toys!
Open-Ended Vs. Close-Ended Toys: Which is Better for Your Kid(s)?
---
---